On May 15th and 16th, 2019 over 200 passionate people from across North America came together to discuss strategies, practices, and policies to build a better food culture in healthcare for patients, staff, communities and future generations. These conversations took place at the Food for Health Symposium organized and hosted by Nourish, a multi-disciplinary team of healthcare innovators who want to improve the culture of food in their respective organizations. Among these Nourish innovators is our own Marianne Katusin, a dedicated CHA Learning faculty member who teaches in our Food Service and Nutrition Management Program and is also the Manager of Operational readiness for Food Services at Halton Healthcare.
Attending the symposium were physicians and nurses, policy leaders, dietitians, food service managers, procurement leaders, patient and family representatives, students, researchers, and academics, and more. There were three streams of learning we could participate in;
Values-based procurement and sustainable menu planning,
Traditional and Indigenous foodways, and
Innovative patient-centered food service.
I attended the "innovative patient-centered food service" stream. The workshops included "The hospital tray: Patient Food Stories and Professional Paradigms", where hospital patients, healthcare staff and policymakers had a round-table discussion about their hospital food experiences through every step in patient care, from admission to release. One mother of a child, who has spent long stretches in the hospital setting, repeated the well-known adage of patient-centered care, "nothing about us without us". Her 10-year-old daughter reflected on how hard it can be to "force the gross food down". For her, hospital food has not contributed to her healing but rather has been something to endure. Her words brought me back to my own father's extended stay in our local hospital, and how lucky we were to have the support of family and friends who brought almost every one of his meals from the outside. It felt like a small injustice to watch the unappetizing hospital food be delivered to my father, three times a day, when all my life he had cooked for us from scratch and taught us the value and impact of good food on our health. Not everyone is so lucky to have the external support we had at that time, but the vision that Nourish has for that hospital tray aims to make it so everyone can experience food as an opportunity for wellness and joy when they are sick.
In the "Bringing Joy to the Plate: Food Service Innovations across Canada" workshop, a number of food service professionals presented the work they are doing to improve client satisfaction, patient outcomes, and food waste. They spoke about educating non-food service staff to respect meal times, menu liberation projects that remove therapeutic diet restrictions from the patient menu, and the experience and success they have had transitioning to a room-service model of food service. (For more information, explore the slides from the "Bringing Joy to the Plate" workshop here.) The work Covenant Health's Misericordia Community Hospital is doing with a room-service model of food delivery was especially well-represented. Misericordia is the first hospital in Alberta to transition to a full "menu service" (i.e. "room service") instead of the more traditional model of designated meals. Their work has improved patient satisfaction, increased the amount of food that patients are eating, and reduced food waste. To read more about Covenant Health's journey to the room-service model, click here.
Both of these workshops were highlights of my symposium experience, allowing me to put together pieces of a puzzle about what is possible when hospitals push the boundaries and standards of food services. With so many fascinating conversations happening around food service in healthcare, my only true disappointment was simply being unable to participate in all the sessions. The value-based procurement and sustainable menus stream of workshops were filled with experts addressing questions of the environmental and social impacts of food in healthcare. For example, representatives from Interior Health came to speak about Feed BC, an initiative to source food in healthcare and other government facilities that is grown, harvested or processed in B.C. Read more about Feed BC. In the tradition and Indigenous foodways stream, Nourish innovator Kathy Loon shared lessons from her journey to provide Indigenous patients at Sioux Lookout Meno Ya Win Health Centre with traditional foods to promote health and healing. A gorgeous short documentary on Kathy Loon's work, "Miichim", can be viewed here.
The culinary high point of the conference was the lunch served to the entire group on the second day featuring three competing teams. These teams had been challenged to create a hospital meal for the year 2030. Each team was made up of a celebrity chef, a healthcare executive, and a food service leader, all looking to answer the question "How will demographic shifts, technological changes, awareness of planetary boundaries, and an empowered patient in the centre of their care all factor into what a nourishing and delicious hospital meal might be like in 2030?" The meals were to be patient-friendly (delicious, culturally-appropriate, nourishing), planet-friendly (sustainable, low carbon footprint, resourceful), and scale-friendly (nothing is wasted, supports health on a large scale, fits in with the 2030 food system). CHEO's Simon Wiseman, Unity Health's Rich Francis, and Holland Bloorview Kids Rehabilitation Hospital's Joshna Maharaj all answered this question in different and creative ways, with Unity Health taking home first place prize with their herb-crusted salmon with wild rice and steel-cut oat risotto and blueberry wild sage compote. It was a fun exercise in the ways hospitals view these responsibilities, and a peek into what leaders in this sector are already doing. For example, CHEO's pilot project focusing on homemade, locally sourced, seed-to-table food can be read about here.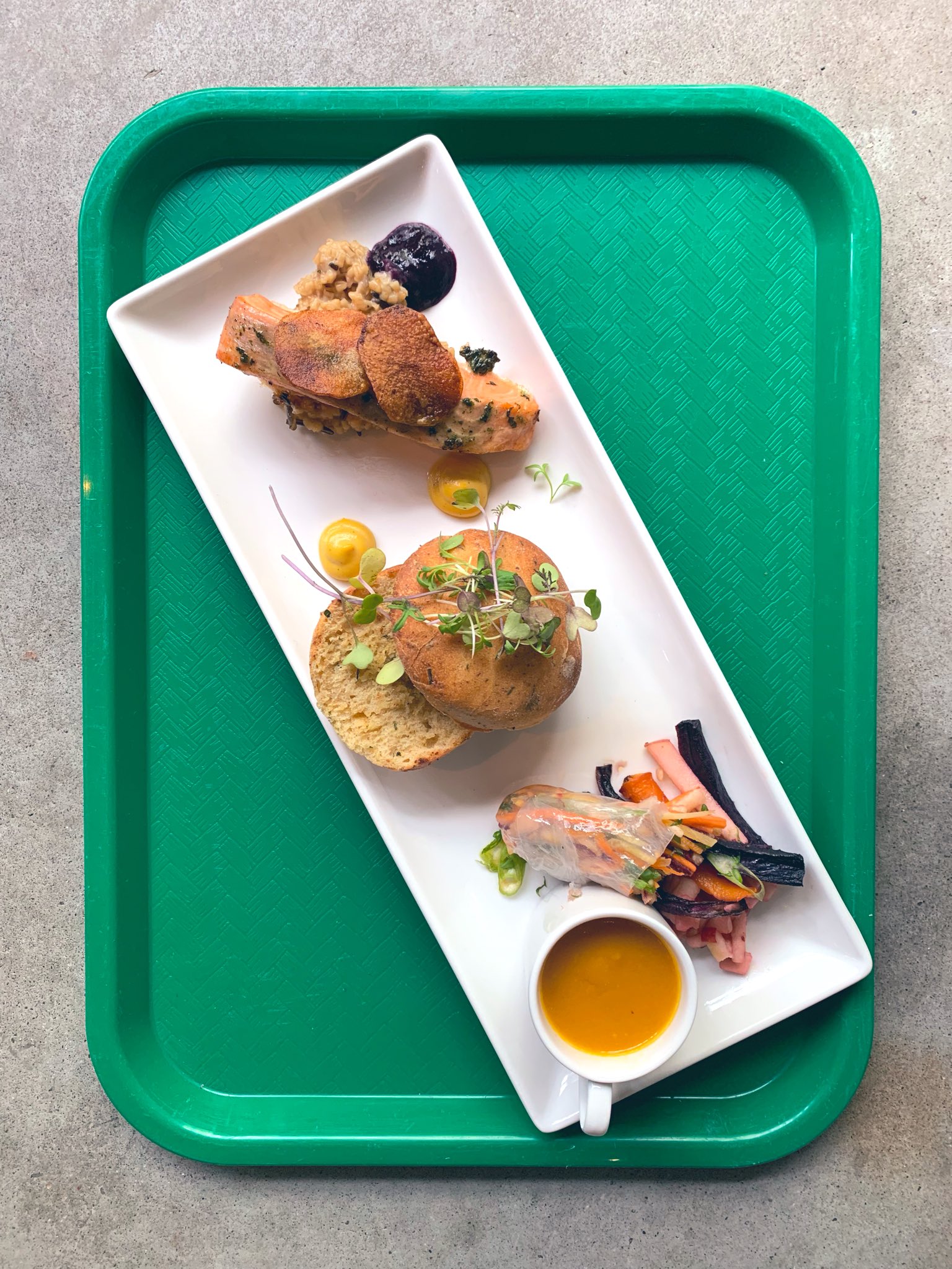 Finally, the Nourish symposium offered attendees the opportunity to take local tours of healthcare sites and food places of interest around Toronto, a city thriving with interesting and innovative projects. These tours included Black Creek Community Farm, where community-led efforts in the Jane & Finch neighborhood bring fresh, healthy food to the table in the food desert, and University Health Network's Bickle Garden, where onsite gardens contribute to the health of staff and patients, and consider the role of the social determinants of health in well-being.
After two days of workshops, tours, conversations, and learning, I came away with these questions:
What does healthcare food service of the future look like?
How can we make it healthier for patients and clients?
And how can we make this food more sustainable for our planet?
There is no one way to answer these questions, but what we do know is this: there is incredible work already being done in Canada and in our healthcare system, including many of HealthCareCAN's own members. Foodservice visionaries are exploring every possible way to innovate within a system that is often challenged by budgetary constraints, the scale of patient needs, and a lack of financial and human resources. Despite these challenges, the desire for change is real. The innovators at Nourish want food service and health providers to know that it not only can be done – it already is being done by some visionary leaders.
If you also attended the Nourish Food for Health Conference, and have ideas on how to innovate food services in healthcare, or if you would like to share your thoughts on your experience with food service in healthcare, I invite you to join the conversation in the comments below.
For more information on Nourish, see their website here and explore their infographic on the opportunities for food in healthcare, created in partnership with HealthCareCAN.
Sarah Ferrabee is the Food and Nutrition Management Program Coordinator at CHA Learning, the professional development division at HealthCareCAN. This program, offered in partnership with Algonquin College, is designed and instructed by leaders in the field, and has graduated more students than any other certified "nutrition manager" program in Canada. Through years of working in health education and promotion, Sarah has gained a strong understanding of the value of food and nutrition for health and wellness, especially for individuals in vulnerable situations, like those who are in hospitals or long-term care facilities.